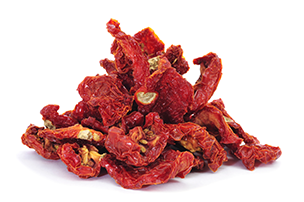 Sun-Dried Tomato
Only the plumpest, vine-ripened San Marzano tomatoes are used for our Sun-Dried Tomatoes. These gorgeous beauties are hand-selected, washed, cut and dried in the sun in the Cauvery Valley. They are natural source of Potassium, Vitamin C and Vitamin A, the lycopene content of tomatoes increases when they are dried!
Ours is 100% sun-dried the natural way with no preservatives such as sulphur. From the star ingredient in pasta sauces to bruschetta toppings, the sun-dried tomato has come a long way from its humble roots in Southern Italy. Snack 'em or add them to your favourite recipes, we know you'll enjoy. The flavour of sun-dried tomatoes is quite intense, concentrated, and slightly salty, so a little goes a long way. Many enjoy eating sun-dried tomatoes as a snack out of hand, especially children. Although they are wonderful with pasta, you'll enjoy using sun-dried tomatoes with many other foods, including vegetables, meats, and breads.
Please note this is a seasonal produce and is subject to availability.
×